Sunday, 10 June 2007 3 PM
Bad me again - I slept in until 11 am - of course, I didn't go to bed until 3 am last night.....!
Friday night and Saturday night I did some beads - including four new "Seafans"
Another beautiful day today! The sun is shining. It was really cool overnight again, but it is starting to warm up for the day. The second planting of corn is finally starting to show some shoots in the garden -- don't know if I will get enough to make it worthwhile. The beans I replanted are also poking through - but no sign of the second planting of peas.
Oh - and there are radish leaves and the second planting of lettuce showing today.
Mike asked me to plant one of those "giant pumpkins" -- and I had some seeds from a few years ago - I planted some and one plant grew. I stuck this in the garden yesterday-- but after reading last night - it may be a problem! LOL
here is a photo of one grown in Ohio a few years ago... from bigpumpkins.com (http://www.bigpumpkins.com/Gallery/GalleryImg/OHPicnic17.jpg)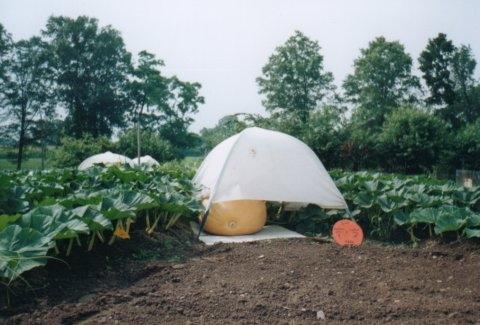 --- LOL
Apparently these "prize pumpkin growers" really baby those things.
Some one broke the 1500 lb mark last year!!!! http://www.pumpkinnook.com/giants.htm
although - most backyard growers usually only get a 200 lb size with "average care".
This week at work - Mike's boss told him they needed to "get rid of" some extra stone from a home that was being built - the company they buy from said they could not return it for credit. Mike asked his supervisor, Rick, if he could "take it home" and Rick said - "go right ahead!" Of course- stone is not LIGHT!!!! he brought home 3 "loads" and we are going
to use it in the front yard -- here is the start...
.
We will have to re-stack this - Mike just lined them up as he unloaded some of them, to see how it would look. I have already replaced the garden edge around the light post (had too few red ugly bricks) with some of the small stones - and it looks really nice. Next year my perennials should be really nice in this garden.....
Well - off to do laundry and such.... Cheryl